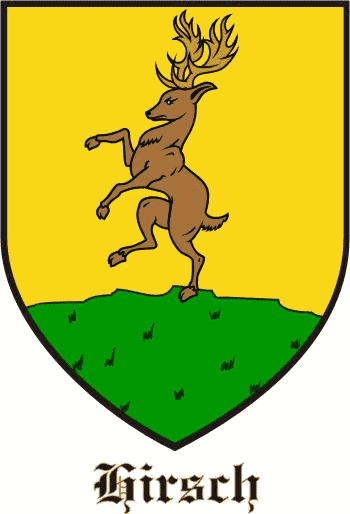 Get this crest printed on...
Hirsch Family History
This famous surname is recorded throughout most of Europe and in over one hundred different spellings including Hirsch, Hirschman, Hirscel, Hirtz, Girsch, Hirshin, Girshow, Herschmann, Erszman, and many others. It is of German pre medieval origins, and describes a game hunter, specifically one who hunted or managed deer forests. It derives from the pre 7th century word 'hirsch' meaning deer, and is a surname which has been prominent in German history since the very creation of surnames in the Middle Ages. Indeed 'Hirsch' appears in over fifty other quite separate surnames including Hirschbold, Hirschleitner, Hirschgarter, and Hirschlander, as just a few examples...