Our in-person family gatherings
Ireland's President Higgins family message
Our TEDx talk about family gatherings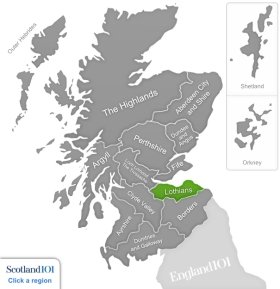 The Lothian region hugs the coast along the Firth of Forth in the Scottish Lowlands. At its heart lies Scotland's capital, Edinburgh – a Unesco World Heritage site and the world's leading festival city. Further afield you'll find enigmatic ruins, grand castles, ancient forests, farmland and beaches galore.
Edinburgh

Credit: Visit Britain, Simon Winnall

Edinburgh Skyline seen from Catlon Hill

Credit: Visit Scotland, Kenny Lam

Street Performer at Edinburgh Fringe Festival

Credit: Visit Britain
Historic sites
Perhaps Lothian's most famous site, Edinburgh Castle oozes history: it is the most besieged place in Scotland, England and Wales, was the birthplace of King James I (son of Mary Queen of Scots) and was once occupied by Oliver Cromwell. Come to see the oldest crown jewels in Britain, the medieval Great Hall and the eerie prison vaults.
Edinburgh Castle at Sunset
Credit: Visit Britain, Andrew Pickett
On the other side of Princes Street Gardens you'll find the Scott Monument, a 200ft gothic monument dedicated to the lauded poet Walter Scott – climb the narrow spiral staircase for magnificent views of the capital.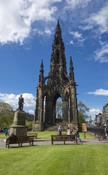 Scott Monument
Credit: Visit Scotland, Kenny Lam
Make time for a tour of both the Abbey and Palace of Holyroodhouse – the latter is the Queen's official Edinburgh residence. Highlights include Mary Queen of Scots' bedchamber and the palace gardens.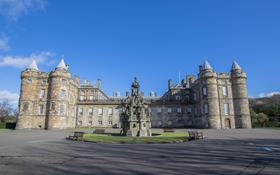 The Palace of Holyroodhouse
Credit: Visit Scotland, Kenny Lam
The wider region is scattered with impressive castles and country houses, many of which have featured in the hit TV drama, Outlander. Filming locations (which are sites in their own right) include Linlithgow Palace, Craigmillar Castle (Edinburgh's 'other castle', where Mary Queen of Scots sought refuge), the mighty Blackness Castle, Hopetoun House and Midhope Castle.
Linlithgow Palace

Credit: Visit Scotland, Kenny Lam

Blackness Castle

Credit: Visit Britain, Becky Duncan
The ruins of Crichton Castle and Tantallon Castle are worth exploring too – you may recognise Tantallon from Under the Skin, featuring Scarlett Johansson. Or if you're a fan of The Da Vinci Code, visit the beautiful Rosslyn Chapel in Midlothian, whose notable visitors include William Wordsworth and Queen Victoria.
Tantallon Castle

Credit: Visit Scotland, Kenny Lam

Rosslyn Chapel, Midlothian

Credit: Visit Britain, Peter Smith
To see history come to life, swing by Preston Mill and Phantassee Doocot, an 18th-century mill and preserved pigeon house, which were used up until 1959; or experience an open day at Cousland Smiddy and Heritage Hub, an 18th century blacksmith's workshop and Victorian cottage.
Preston Mill
Credit: Visit Scotland, Kenny Lam
Things to do
Lothian is chock-full of history and culture. Soak it all in at some of the country's finest museums. The National Museum of Scotland's exhibitions span everything from the natural world to art, design, science and technology, while The National Gallery displays masterpieces by Rembrandt, Van Gogh, Monet and more. If you're looking to discover the history of Scotland's capital, look no further than The Museum of Edinburgh at Huntly House, which features in season three of Outlander.
The National Museum of Scotland

Credit: Visit Scotland, Kenny Lam

The Scottish National Gallery

Credit: Visit Scotland, Kenny Lam
Elsewhere, the relatively new Coastal Communities Museum depicts local life in North Berwick and The National Mining Museum in Newtongrange outlines what life was like for Victorian miners working with the largest steam engine in Scotland.
Time your visit right and you could experience one of Edinburgh's world famous festivals such as the Fringe, the Royal Edinburgh Military Tattoo or the International Festival. December's Hogmanay is an unforgettable New Year's celebration worth witnessing too.
Fireworks, The Royal Edinburgh Military Tattoo

Credit: Visit Scotland, Kenny Lam

Military Tattoo

Credit: Visit Britain, Andrew Pickett
Want to get outside? Take a short and steep walk to the top of Arthur's seat for excellent views of Edinburgh and beyond; follow woodland trails in Pentland Hills Regional Park; explore the 500 acres of designed landscape which surround the preserved ruins of Palladian Penicuik House; or wander the grounds of Dalkeith Country Park to hunt for fairies and 900-year-old trees.
Arthur's Seat

Credit: Visit Britain, Simon Winnall

Dalkeith Country Park

Credit: Visit Scotland, kenny Lam
For water-based activities head to Portobello beach just outside Edinburgh, and take a dip in the Victorian-era Turkish baths and swimming pool. The Scottish Seabird Centre in North Berwick runs an enlightening discovery centre, as well as seabird-spotting boat trips.
Portobello Beach

Credit: Visit Scotland, Kenny Lam

Scottish Seabird Centre, North Berwick

Credit: Visit Scotland, Kenny Lam
Scotland is known for its world-class golf courses, and Lothian is no different, with Winterfield, Whitehill House and North Berwick to name just a few.
Food and drink
From haggis, neeps and tatties – an offal-based dish that tastes better than it sounds – and black pudding to buttery, crumbly shortbread, traditional dishes and high-quality local ingredients dominate menus in Lothian.
Edinburgh has more restaurants per head than any other UK city. Try Whiski Bar and Restaurant for award-winning haggis, Scottish salmon and over 300 whiskies; opt for
Howies on Waterloo Place to enjoy local, seasonal dishes such as cullen skink (fish and potato soup), salt-baked beetroot and cranachan (cream, berries, oats and whisky); or eat at casual fine dining establishment Purslane for the likes of venison, guinea fowl, crab and sea bream.
21212 is the only Michelin starred restaurant in Edinburgh with rooms, and a menu as entertaining as it is delicious: the cheese plate showcases 'a fine Brexit selection'. In Leith, Tom Kitchin's Michelin starred The Kitchin serves up British cooking with a French twist in an old whisky warehouse – try the Highland venison and Orkney scallops.
A distillery or brewery tour is essential for those partial to a tipple: choose NB Distillery in North Berwick for gin and rum, Stewart Brewing in Loanhead for beer or East Lothian's Glenkinchie distillery for whisky.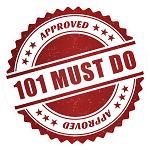 101 Must-Do' ways to live your regional connection.
Our 101 team have been working with local tourism, business, community and Council initiatives to bring you some of the best ways for you to live your connection to Lothian.
Community