Orkney Island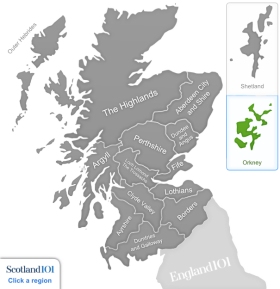 Norwegian settlers ruled Orkney during 8th and 9th centuries, and then by 1468, it was pledged to Scotland as a payment of dowry of King Christian I for his daughter Margaret. By the 20th century, the island served as the site of the Royal Navy that played an enormous role during the World War I.
Landscape and Climate
Orkney has mainly low-lying islands that measure over 80 kilometers by 47 kilometers with about 21, 349 inhabitants including Kirkwall as the largest settlement area and part of the Northern Isles. There are numerous rugged cliffs, coastlines, and isles with swift currents. There are many fertile farmlands, middle Devonian basaltic volcanic lands, and glacial striations from the North Seas.
The island has a cold climate that is perfect for its location featuring winter at 4 degrees Celsius and summer at 12 degrees Celsius. There are constant breezes even during summer that keeps the climate moderate. There are long winter nights that sometimes offer views of the aurora borealis on the northern horizon. The region's annual average temperature goes from as low as +1 degrees Celsius to as high as +16 degrees Celsius, especially during August.
Economy
With the Orkney's fertile soils there are numerous farms and the most important sector is the economy. These agricultural lands serve as grazing for sheep or cattle, cereal production, and woodland. Fishing involves minimal of economic activity in the regions as the much current industry focus on herring, lobster, shellfish, and salmon.
The traditional sectors of the economy in Orkney include cheese, beer, whiskey, and beef. There has also been the rise in retailing and construction, as well as hotels and restaurants that attribute to tourism. The Flotta oil terminal has also helped to improve the oil transportation and construction industries.
As more than half of the economy depends on agriculture, forestry, fishing, manufacturing, and hotels and restaurants also contribute to 12 percent each while 5 percent for the later. There is also business on public service which accounts for employment of 5 to 49 inhabitants.
Tourism
The nightless summer of Orkney Island fascinates tourists. The abundant wildlife also adds to its charm and includes the ravens, kittiwakes, puffins. Marine fauna also entices with the whales, dolphins or even otters on the coastlines. The rich cultural heritage manifests on the highlights of the island to include the Ring of Brodgar, Midhowe Broch, St. Magnus Cathedral, the Hoy lighthouse, and more natural wonders that fascinate tourists all around the world.