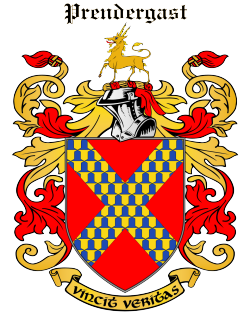 Get this crest printed on...
PRENDERGAST Family History
This famous surname is recorded throughout the British Isles. It is arguably English, Welsh, Irish and Scottish, but is ultimately of Norman-Flemish pre 10th century origins. It is locational from a now "lost" medieval village called Brontegeest, in the province of Flanders, near to the city of Ghent, and was taken by early Flemish settlers to Normandy. It is said to have been brought to England by Prenliregast, a follower of Duke William of Normandy during the famous Conquest of 1066. His son Philip, was given lands near Haverfordwest, in the "English" county of Pembrokeshire, Wales, and called Prendergast Castle...