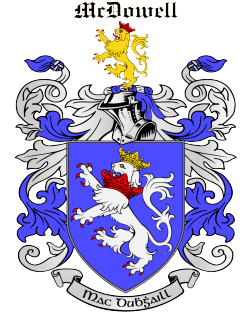 Get this crest printed on...
MCDOWELL Family History
Recorded in many forms including MacDowall, MacDowell, McDowell, MacDowal, MacDoual, McDugald, McDougal, McDuall, McDill, McDool, and McCool, this is a surname of Scottish origins, which is also well recorded in Ireland. It is a development of the pre 10th century Old Gaelic "MacDubhghaill" from the male given name "Dubhghall", composed of the elements "dubh", meaning black or dark, and "gall", a stranger. It is said that this was frequently used as a nickname for Scandinavian-Viikings, and in particular to distinguish the darker-haired Danes from fair-haired Norwegians. The clan are descended from Dugall, the eldest son of Somerled of the Isles, a family described by the late Dr...