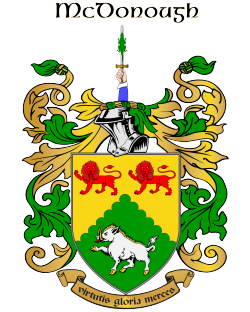 Get this crest printed on...
MCDONOUGH Family History
This is an Anglicized form of the Old Gaelic patronymic "MacDonnchadha", which translates as "the son of Donnchadha". The name itself consists of elements meaning "brown (donn)", plus "battle (chatha)". Originally, two separate clans existed in Ireland, the first in Connacht, and these MacDonnchadha's were a branch of the MacDermots, the 8th Century Kings of Connacht. The second clan, whose chiefs held the Castle of Kanturk in County Cork, and who were known as the bards of Duhallow, were a branch of the MacCarthys. The name is now rare in Cork, original nameholders, it is believed, changing their name to MacCarthy...