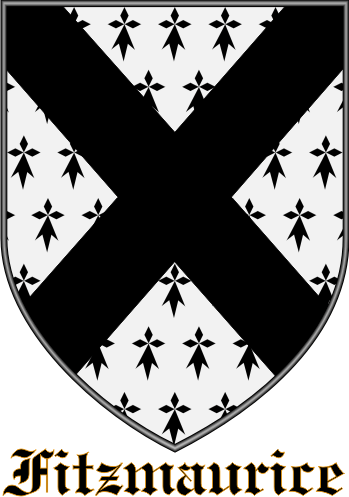 Get this crest printed on...
FITZMAURICE Family History
This interesting Irish name is a Anglo - Norman French origin and is a patronymic (son of) form of the given name Maurice, Fitz, being used to distinguish the son from the father. The name Maurice is from the Latin 'Mauritius', meaning an inhabitant of Mauretania, the Roman name for what we now called Morocco. The Irish family of Fitzmaurice share their common Norman ancestry with the Fitzgeralds. The Fitzmaurice line holds the title Marqiese of Lansdoone. In Irish Gaelic the name is 'Mac Muiris', and the family are known as the famous branch of the Norman Geraldines, Lords of Lixnaw in Kerry, notable for their resistance to English invaders in the 16th Century...