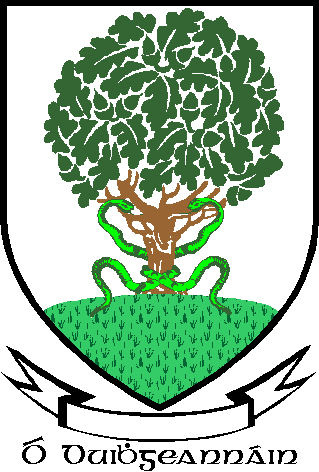 Get this crest printed on...
DUIGNAN Family History
This interesting surname is of Irish origin, and is one of the Anglicized forms of the Gaelic "O'Duibhginn", which is composed of the elements "O", descendant of, with the byname "Dubhceann", from "dubh", black, and "ceann", head, and would have been given to one with dark hair. The Duignan's were one of the more important literary families of Ireland, and were bards and ollaves to the leading septs who resided in the counties of Leitrim, Roscommon and Longford. Their principal residence was at Kilronan, Co. Roscommon, of which parish they were erenaghs (lay lords of the Church). The first recorded namebearer in the latter half of the 13th Century (see below) is described as "that holy man, peer of saints, who surpassed even Paul"...