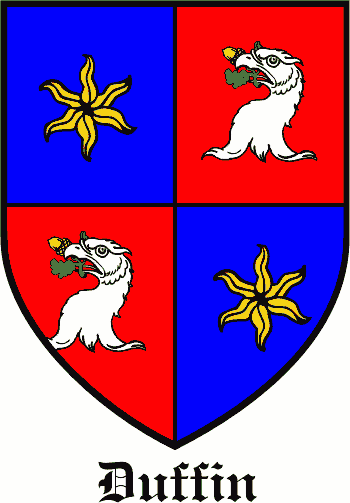 Get this crest printed on...
DUFFIN Family History
This interesting and unusual name has its origins in an Old Norse personal name "Dolgfinnr", which was a common name in Northern England in the 10th and 11th Centuries in areas of heavy Scadinavian settlement. The name is composed of the elements "dolgr", wound or scar" and "finnr", the Old Norse personal name "Finn". The modern surname has two forms Duffin, Duffyn, Duffan and Dolphin, although "Duffin" may also be from the Old Norse "Dufan" itself from the Old Irish "Duban", a byname from a diminutive of "dubh", black. The name development has included "William Duffin" (1279, Huntingdonshire) and Robert Dolphin (1606, Lancashire)...