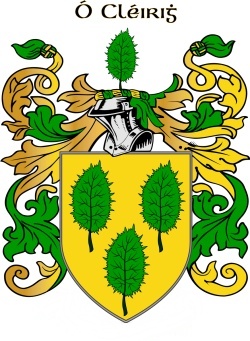 Get this crest printed on...
CLARK Family History
Clarke is an Irish surname from County Galway that spread to County Donegal and County Dublin. The name is derived from the Irish Gaelic sept O'Cleirigh, meaning "clerk". There are variants, including Clark. Clarke is an uncommon given first name. Clarke is also an English surname of Anglo-Saxon origin, first recorded in Kent in the early 12th century.
In terms of current geographic spread of the clan, this Irish surname is the 32nd most prevalent surname in Ireland, and it can either by of native Irish Gaelic stock, from O Cleirigh, denoting descent from Cleireach. Mainly found in Galway, Cavan, Limerick, and Donegal, Clarkes are descended from Guaire the Hospitable, the famous Irish king of Connacht. They can also be Anglo-Irish, and, in this case, found in Antrim and Louth. (Keller Clark)