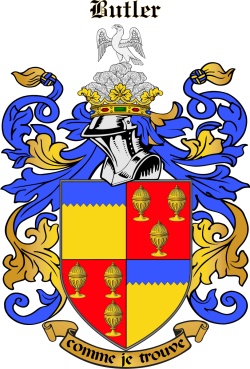 Get this crest printed on...
BUTLER Family History
Le Botiller, le Boteler, 12th/13th century forms of the occupational surname a quo 'le Boutillier', a surname whose root is 'botille', the modern French form is 'bouteille' meaning 'bottle'. Thus the great Anglo-Norman surname of Ireland is given as coming from a person of great importance, viz. the Chief Butler or steward of Ireland.
The story goes that Theobald FitzWalter was appointed chief butler/steward of Ireland by Henry 11 (Plantagenet), and he or his descendants adopted the suname 'le Bottiler'. Certainly the name of Theobald le Botiller occurs in the Patent Rolls, as the son of Theobald Walter, and had livrée (delivery) of his lands on 18th July 1222. He seems to have married Joan du Marais, daughter of Geoffrey du Marais or de Marisco. Du Marais is an old French topograhical surname meaning 'of the Marsh'. Then follows his son, the third chief butler, again Theobald, who married Margery de Burgh, daughter of Richard Mor de Burgh (modern: Burke) and Egidia de Lacy. Thus are the beginnings of the great Irish Butler dynasty.
Certainly, when one thinks of the Stuarts, the royal Scottish family, there is a similar derivation of their name, from Old English 'stiward', the Master of the House and Table. What appears as a humble origin is far from it; even into Elizabethan times the higher gentry occupied positions of 'service' to the king. Soon these families would accrue lands and titles, as was the case with the Butlers: although they were barons long before, the granting of the title of Earl of Ormond (anciently Ur Mhumhan, the greater part of Co Kilkenny and parts of North Tipperary) in 1328 established their power for years to come. From their base at Kilkenny Castle, they developed in direct rivalry with the Cambo-Norman FitzGeralds, Earls of Kildare.
By the mid 17th century, and the great upheavals in Irish history, the Butlers, for the most part, occupied the Catholic/Royalist position: this again in sharp distinction to the Desmond FitzGeralds, Catholic but certainly not Royalist. During the Cromwellian period, James Butler, the Protestant 12th Earl of Ormonde led the patchwork coalition of forces opposed to the militant Cromwellian Calvinist invaders: some Gaelic Irish clans (e.g. the MacCarthys), Catholic Old English (i.e. Anglo-Norman, Burke, FitGerald &c.), New English Protestant Royalists. In the opinion of the present writer he did an almost impossible job rather well; his worst faults were probably caution, and his leaning toward England for answers. For his pains he was made Duke of Ormonde by a grateful Charles 11 in 1661.
However, ordinary families of the name are to be found among the 'Principal Irish Names' in Sir William Petty's Cromwellian 1659 'Census' or incomplete survey of Ireland:
Co KIlkenny
Galmoye Barony (hereafter just the name of the barony), 12 Butler families; also in same barony Theobald Butler is listed as a 'titulado' (gentleman landholder). Gowran, 2 Butler tituladoes. Iverke, 14 Butler families. Ida, Igrin &c., 8 Butler families. Knocktopher, 16 Butler families. Fassagh Deinin, 11 Butler families. Kells, 23 Butler families. Skillellogher, 8 Butler families. Crannagh, John Butler, titulado.
Co Tipperary
Lower Ormond, 9 Butler families; also one Butler titulado. Kilnamanagh, 56 Butler families. Eliogurty & Ikerrin, 43 Butler families. Clanwilliam, 11 Butler families.
Co Waterford
Decies, 11 Butler families. Galtire, 9 Butler families. Waterford City, several Butlers, merchants etc.
Co Wexford
Scarwelsh, Captain Butler, titulado.
By the mid 19th century and Griffith's 'Primary Valuation' of households in Ireland, the following counties had the highest figures for Butler: Kilkenny, 382; Tipperary, 332: Waterford, 136; and Wexford, 115.
The Registrar General's 'Special Report...on Surnames...'(1909), based on the 1890 births distribution, shows most Butlers to be in Cos Dublin, Kilkenny, Tipperary and Waterford.
Some Notable Butlers (among many):
James Butler, 1st Earl of Ormond (1305-1338) was the son of the Justiciar of Ireland, Edmund Butler and Joan FitzGerald, of the House of Kildare. He founded the Friary of Carrick Begg, near Carrick-on-Suir.
Thomas Butler, 7th Earl of Ormond (died 1515) was grandfather to Anne Boleyn.
Theobald Butler, 1st Baron Cahir (died 1596) ruled over most of south-west Tipperary. His son, James, was a 'rebel' involved in the great Munster Rebellion of 1598, led largely by the FitzGeralds of Desmond. The deaths in Munster during the English re-action, have been estimated as much as a quarter of a million.