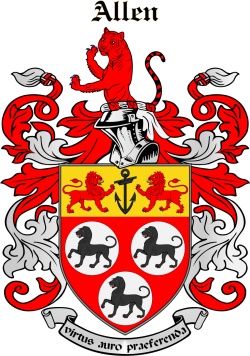 Get this crest printed on...
ALLEN Family History
Also Alleine, Alleyne, Allin and Alland meaning the "son of Alan". It is said to have come into England with Alan Fergeant, Count of Brittany, companion of the Conqueror, and first Earl of Richmond, Count of York. It soon became common in the north of England and the Scottish border. The oldest known form of the name was in the 10th century.