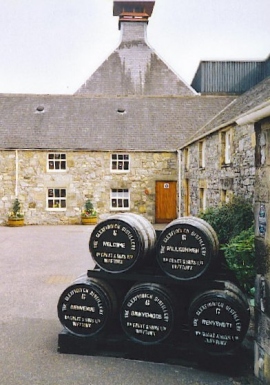 Glenfiddich Distillery, Dufftown - Colin Smith
[CC-BY-SA-2.0], via Wikimedia Commons
Scottish Food 101
People might think of Haggis, blood sausage and deep fried Mars bars when they think of Scottish food. While these do have their place (whether deserved or not is another question) in the Scottish kitchen, there is a lot more to Scotland than stuffed sheep's stomach. Like vegetarian Haggis! Just kidding, there REALLY is more to Scottish food than haggis.
Oat Porridge
Many Scottish people have porridge for breakfast. It is either prepared with milk or water, eaten plain or with all sorts of ingredients. A favorite is oat porridge with a bit of whiskey and honey, some bananas sliced on top and then add some whipped cream!
Full Scottish breakfast
While it is not typical to have a full Scottish breakfast every day, a visitor to Scotland will definitely have the option to have one in their hotel or B&B. A full Scottish breakfast is very filling and can come in slightly different variations (vegetarian options are also available most of the time). It includes bacon, eggs, toast, sometimes Haggis, sausages, mushrooms, baked beans, tattie scones, fried tomatoes, and black pudding. It is quite a big meal – and if there is something you do not like, e.g. black pudding, then let the people who cook it for you know in advance!
Mince and tatties
This is a simple dish but a favorite in Scotland. It simply is what it says: mince with tatties (potatoes). The mince is usually in a gravy like sauce, often with peas and baby carrots or corn. The potatoes are usually boiled and served cut in halves or quarters. Some people also mash the potatoes. As long as there are potatoes and mince in a yummy sauce, most Scottish people will love this classic.
Kippers
Kippers are a type of fish that used to be a traditional breakfast food in Britain. These days, Kippers seem to make a comeback as it is a healthy breakfast food – though not for everyone's taste as Kippers are quite aromatic. Your whole house will smell of them for a few hours when you prepare them yourselves. If you would like to try them, it is recommended to try it somewhere else unless you do not mind the smell of fish. A very strong smell of fish.
Haggis
There is no way around it. It has to be mentioned. Haggis is a classic in Scotland. It is basically a sheep's stomach filled with other Sheep intestines. You either love it or hate it. Some people hate the idea so much that they would not even want to try it. There is also a vegetarian option that does not include any intestines at all. And it (the vegetarian version) does taste quite good!
Black pudding
Black pudding mainly consists of blood, suet and seasoning. It is another dish that you either love or hate. It usually is served as part of a full Scottish breakfast.
Scotch pie
Pies are popular all over Britain, and Scotland has its own version: The Scotch Pie. This kind of pie has a hard crust, unlike other flimsy pies. So it is easy to eat the pie – which turned it into a favorite fast food item in various Scottish eateries and bakeries. The filling is mince. What you will find is that Scotch Pies from different places often taste quite different. This is because everyone uses their own recipe – as long as it looks like a pie and uses mince as the main ingredient for filling, it's a Scotch Pie!
Deep fried Mars bars
Yes, really. The Scottish put batter around a Mars bar (just like you'd put batter around any kind of meat you would like to deep fry), and then deep fry the Mars bar. It is a rather peculiar thing to eat, but I guess you need to make the experience to be able to have an opinion about it. At least it doesn't involve a sheep's intestines!
Irn-Bru
This is a soft drink that is seen as a national drink in Scotland – though many Scottish actually neither like nor drink it. If you like fizzy drinks like Coca Cola and Fanta, then Irn-Bru might be worth a try.
Whiskey
Scotland is a land with many whiskey distilleries, and no tourist visit to Scotland is complete without going to a whiskey tasting and tour of a distillery.
Cullen Skink
It might sound like an odd name – but it simply is a traditional Scottish soup that is very popular. The main ingredients are smoked Haddock, tatties and onions. The dish originally came from a town called Cullen but is now popular all over Scotland.
Clootie dumpling
This is a traditional Scottish sweet pudding. It is made of flour mixed with bread crumbs and dried fruits. It looks like a big clump of baked dough but tastes surprisingly good (if you want something sweet, then a clootie dumpling is better than a deep fried Mars bar).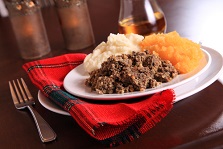 Scottish Food 101
See also: