Fourth largest city in Scotland (and sunniest!), Dundee spreads on the Firth of Tay estuary in eastern Scotland. Its fine coastal location along with its attractions of national importance have earned Dundee a place in many well-known travel publications and websites and has recently been named the must-visit Scottish destination.
As a compact city, Dundee certainly packs a punch. The city is a UNESCO City of Design and also hosts the only V&A museum in the world outside of London which opened in 2018. Its waterfront around Discovery Point is undergoing huge redevelopment works which are reconnecting Dundee's city centre to the River Tay. The 30-year redevelopment project aims to transform the city of Dundee into a world-leading waterfront destination for visitors and business through the enhancement of its physical, economic and cultural assets.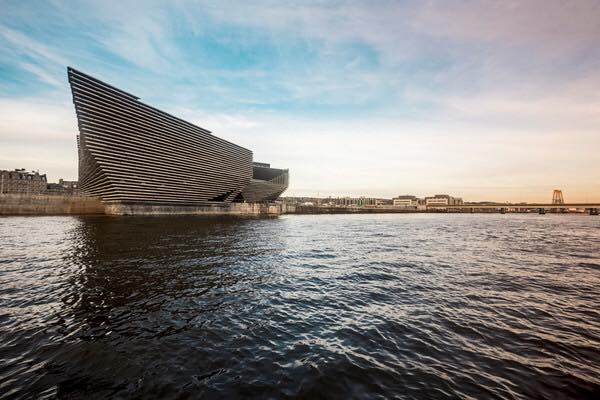 View of the V&A Museum, Dundee
Credit: Dundee, One City, Many Discoveries, @visitdundeecity
While Dundee's most recent developments are well worth seeing, it is also the home of older but equally magnificent castles and museum. The Mcmanus, Dundee's Art Gallery and Museum impresses with its Victorian architecture in the city centre of Dundee. The place is perfect for those who want to visit a museum without feeling rushed and still be able to see all it has to offer, from its collection of well-known local artists, including James Macintosh Patrick, a natural history collection focusing on Lowlands and Highlands wildlife, all the way to ancient Egypt artefacts in the prehistoric exhibits. Arts lovers will find what they want within the Dundee Contemporary Arts (DCA) with its two contemporary galleries.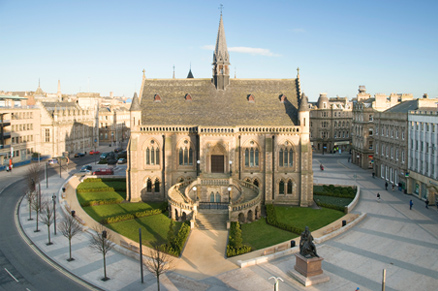 The McManus, Dundee's Art Gallery and Museum
Credit: mcmanus.co.uk
The Broughty Castle Museum in the Dundee borough of Broughty Ferry showcases interesting exhibits about the city's history, its people, wildlife and art. It the weather allows, climb to the observation deck for spectacular views of the city and its coastline.

Brought Castle Museum, Dundee borough of Broughty Ferry
Credit: Wikipedia, pic by David Mcintosh
A little further away but still in Dundee's vicinity, dark sky lovers will enjoy stargazing using a computerized telescope at The Mills Observatory and discovering its exhibitions, while castle lovers won't want to miss the 17th-century fairy-tale Glamis Castle. Surrounded by parklands where you can linger around after your visit, Glamis Castle offers visitors the discovery of striking features of the castle such as the Victorian Dining room and it's magnificent fireplace through a 50-minute guided tour. Said to be haunted, you can hear all about the castles' many monsters and myth by joining one of their ghost tours.
The Mills Observatory

Credit: Wikipedia, Ydam

Glamis Castle, near Glamis

Credit: Wikipedia, Macieklew
The Tay Bridge, which you may have crossed in you entered Dundee by train, is also an attraction in itself. Originally spanning two miles between 1872 and 1878, the bridge tragically collapsed in 1979 after a storm and saw a train plunge into the cold water below causing the death of 75 passengers in the process. Stumps from the original bridge are still visible. The present beautiful iron bridge was completed as a replacement in 1887 and took 9 years to build. It remains one of the world's most spectacular railway journeys. For fine views of Dundee and the Firth of Tay, head over to one of the two viewing platforms that are located on the bridge. Forth Road Bridge is also a lovely place to stroll along around the city, walking or cycling, and enjoy the magnificent views of Dundee and the Tay Rail bridge.

The Tay rail bridge, Dundee
Credit: Dundee, One City, Many Discoveries, @visitdundeecity
For yet another nice vantage point of Dundee, head over to Dundee Law, at a height of 572 feet above sea level, this spot, which happens to be an extinct volcano, provides glorious views of the centre of Dundee.
Dundee Law, Dundee
Credit: Dundee, One City, Many Discoveries, @visitdundeecity